In our last issue, we have stepped into the world of Linux with "A Tale of a Penguin". In this issue, we will continue our discoveries by comparing the different releases of Linux.
All Linux versions utilize a common kernel which is the most essential part of the operating system. However, different companies and organizations configure the operating system by making their own modifications on the open source kernel. Likewise, many of the basic programs available in Linux versions/releases are open source; therefore one can find common programs with different adaptations in different versions of Linux. This exceptional advantage of open source software produces maltifarious Linux versions which are made available through Internet. Most of these versions are small-sized (fits into one or two diskettes), and some of the big-sized versions have disappeared since the development process has come to a stop. It is quite possible that anyone can prepare his/her own version of Linux by getting help from the help file available at http://www.tldp.org/HOWTO/Bootdisk-HOWTO or by studying the documents that can be found at http://www.Linuxfromscratch.org. This experience will absolutely teach most of the basics of Linux operating system to people with moderate know-how and to enthusiasts.
To find more information about the most widely available Linux versions on Intenet and to find out about related web sites, make sure to visit http://www.linux.org/dist/list.html. Currently, you can access to 168 Linux verisons on this site. As I have mentioned above, these versions include one or two diskette-sized software (2-Disk Xwindow Linux, Floppix, RoLinux, SmalLinux, TinyLinux etc.) or versions specifically developed to support the language of a country (Gelecek, TurboLinux, MiracleLinux, ZiifLinux etc.) or versions that support multi-languages on different platforms (SuSeLinux, RedHat Linux, MandrakeLinux, SlackwareLinux, DebianLinux, CalderaLinux etc.)
As time passed, the free distribution of some software such as Gelecek, SuSe, Corel, TurboLinux etc. have been ceased and an amount of money was started to be charged for these packages. Considering this fact you may ask, "Will all the Linux versions share the same fate?". I may Personally provide you with the following answer, "As far as the philosophy of open source software continues, the Linux concept shall always remain free in some specific fields". In other words, since the Linux operating system is not monopolized by a specific company such as Microsoft, the companies may wish to terminate the free usage of a software at their own will. However, this fact will never lead to the monopolization of Linux.
As the Computer Center of Middle East Technical University, we are trying to promote the use of Linux operating system within the campus. In this respect, we have installed METU-CC Linux, which is an adaptation of RedHat 7.3, to the systems available at our PC Rooms. Moreover, we have prepared a "Linux Operating System" guide. This guide and the Slackware, RedHat & Mandrake Linux versions have been made availablefor our users at CC Library in return for a very small amount of money that is barely enough to cover the costs of production. Now I am going to talk about the basic features and differences of these versions to provide an answer to the question of our users, "Which Linux version should I use?".
Slackware:
Slackware is the oldest Linux distribution. At the first step, the novices may think that the text based installation of Slackware is difficult. Moreover, during configuration process after performing installation, it would be better to change the cofiguration files manually rather than using package configuration tools. Yet, a small number of configuration tools such as netconf, pkgtool etc. are operatable in the text based environmet. Slackware uses tgz packages during the installation which facilitates installing and uninstalling processes of programs. Moreover, it supports RPM packages which are prepared especially for RedHat based versions that are widely used in Linux world.


Slackware package configuration program display screen
Despite some disadvantages, you can easily benefit from Slackware as a good tool for understanding the strucuture of and gaining broader knowledge about Linux operating system, so I would recommend this version of Linux to moderate and advanced users. Since stability and flexibility is a top priority of this version, this makes the software a good choice especially for the server systems. The latest verison number of Slackware is 8.1. The 9.0 version of Slackware is still being tested and evaluated before release, yet it is obvious that Slackware will maintain its legendary status for its system stability.
RedHat:
This is one of the most popular versions of Linux operating systems. Redhat has achieved a rapid pace of developement and today its latest version reached to 8.0. Enrichment of the graphical interface, configuration and installation applications are highlights of the 8.0 version that remarkably ease the use of Linux. Besides, Redhat distributions include the 1.0.1 version of OpenOffice, the office applications package, which is one of the biggest open source software. Redhat is a package operating system equipped to serve users in any capacity from workstations to server systems. Since most stable packages are employed within RedHat, administrators prefer to use it widely on server systems. Installation programs of Redhat utilize RPM packages; therefore users are able to take advantage of the ease provided by rpm command and graphical interface during installing and removing programs.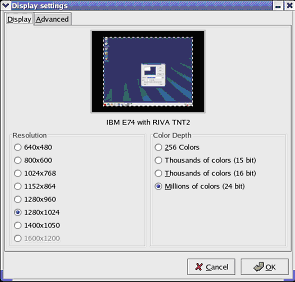 Resolution settings for RedHat8.0 version at graphical environment
As apart from these advantageous points, there are some shortcomings of RedHat. For example it does not support Turkish during installation, there are some mistakes (yet very small ones) about Turkish language support in version 8.0 and some problems can be experienced with the graphical applications. All of these handicaps foretell us that the version 8.1 will be released in the very near future.
Mandrake:
Mandrake has taken its roots from RedHat operating system and has today reached the version 9.0. Mandrake is a very ideal choice for novices who are looking for Turkish language support, easy installation support and graphical interface tools for configuration tasks.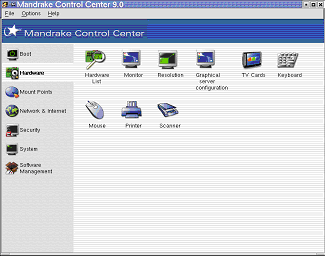 Mandrake Control Center 9.0 which provides system configuration on graphical environment
It is especially designed for systems with Pentium processors, therefore it can use the standard RPM packages as next to its packages with mdk.i586.rpm extensions. One of the great characteristics of Mandrake is about "supermount" support. "supermount" is still not added to a stable kernel and is used to access movable media. Mandrake has been using the "supermount" support as a default setting for quite a while in its standard distributions. Since Mandrake uses other similar unstable programs in its distributions, the updates are being very frequently announced. Because of shortcomings o the s, administrators do not prefer to use Mandrake on server systems. The version 9.0, as in the case of RedHat8.0, offers OpenOffice office applications package with Turkish language as well as many other language support. Enriched support of Turkish languıage and powerful graphical environment applications render version 9.0 of Mandrake a suitable package for beginners as apart from the other available versions.
When we think about the phenomenal progressive development of Linux from the very first start, we can undoubtfully tell that Linux will achieve a more advanced level with more stable and reliable features in the future. Therefore, the comments I have provided in this article may change utterly in later versions. In conclusion, I would like to assert the fact that the best way to discover the depths and secrets of Linux world is to try each Linux version by yourself and choose the most appropriate one that best fits your needs. The little penguin is readily at your service whenever you need it.
Have fun with Linux's stable and reliable computing...
Selçuk Han Aydın